ToneSilk 3dee-Verb
ToneSilk's equipment is hand-made to order in France. It is based on original and unique designs created for the discerning musician.
Reverb for ALL amplifiers
If you have always dreamed of lush and seductive reverb on your Marshall® 2203, your Fender® Bassman 100, your Mesa Boogie® Mark I, your Orange® OR120, or your Fender® Tweed Twin? Have you been disappointed by the quality of your effect on an overdriven amplifier? ToneSilk® has created the three dimensional tube reverb 3dee-Verb for you!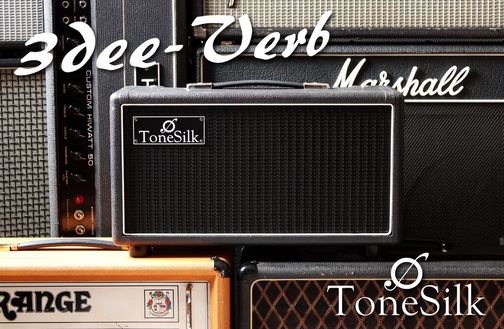 With a clean or crunch tone, even without an effects loop, the unique and innovative design of the 3dee-Verb allows you to wrap a natural, spacious, or delicate reverb around your precious tone.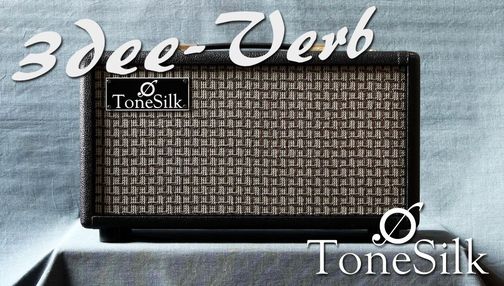 Reverb where it was impossible!
A three dimensional experience you have never encountered...
Behind its classic looks, the 3dee-Verb is not a traditional reverberation effect. With its revolutionary design, it produces the reverb tones on its own and invites you at the heart of a virtual space that magnifies your inspiration. Just as in real life, the sound reflections do not come from your guitar speakers but from your environment. For you and your audience, this unique experience is awe-inspiring and will forever be printed in their auditory memory!

You have to FEEL it!
The Space, Intensity, Tone controls and character switch let you remodel your environment to your taste: a warm and cosy lounge, a luxurious room or a large and majestic hall.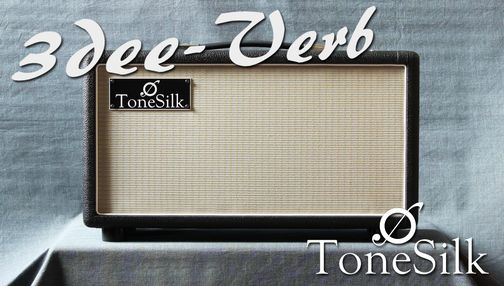 Wrap your reverb around your audience
Feel it in real-life
The 3dee-Verb has to be experienced in real-life! Words, descriptions or videos cannot express the true sensations that it generates. More than just an effect on a tone, it transports you and your spectators at the heart of a fascinating and hypnotical space. The reverberated tone of your amplifier is emitted by the 3dee-Verb itself: depending on its position and yours in the room, the perception of the space effect changes. At low or high volume, it is recommended to experiment in order to discover a thousand possibilities that will magnify your creative powers.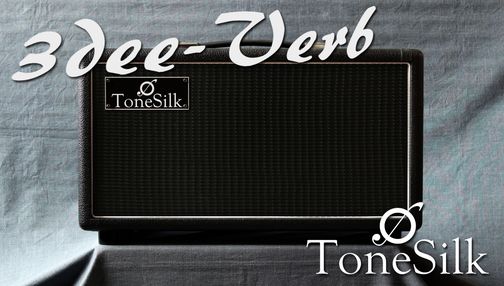 Characteristics and options
3dee-Verb Classic
3dee-Verb standard model: 1650€ (Patent pending). _ 100% tubes, _ Controls: Space, Intensity, Tone, character switch (3 positions), _ Footswitch included, _ Format: 34,5cm x 35cm x 78cm, _ Black tolex and your choice of grillcloth type.
Options
1. Your choice of grillcloth style and color: foc 2. Push-Pull "boost" on Intensity control: 45€ If you wish for an unlisted option, don't hesitate to contact ToneSilk.
They trust ToneSilk:
Matthieu Chedid - M -, Indochine, Skip The Use, Tang, Toxic Waste, HK et les Saltimbanks, Unswabbed, Ed Wood Jr, Persian Rabbit, Les Mauvaises Langues, Ace Out, Brisa Roché (Richard Horon), Lena Deluxe, Glowsun, Access Royale, Château Brutal, Marcel et son Orchestre, Toybloïd, General Lee, Hey Bulldog, Faubourg des Musiques, Ecole de guitare Ibanez, EF2M, Lock Groove Studio, LB Lab studio, Red Studio, Gimmick studio, In Situ Studio, Studi'Oh, Studio C&P, Euroguitar, Star's Music, Jericho Musique, Rock Shop (BE), Live Music Shop (UK), etc...
News

We speak English!
Need professional service for your equipment on the Continent? Contact us by phone or e-mail.

¡Hablamos Español!
¿Necessita servicio técnico profesional para su equipamiento? Llámenos o mándenos un e-mail.
Nous joindre

Horaires d'ouverture:
Sans rdv le mercredi de 14h à 19h et le samedi de 14h à 18h, ou sur rendez-vous.

Nous contacter:
Vous pouvez nous joindre par téléphone au

(boîte vocale en dehors des horaires d'ouverture). Pour nous envoyer un email, rendez-vous sur la page Contact.

Nous trouver:
A 10 mn du centre-ville de Lille, Métro Les Près (ligne 2).
Notre adresse: 1 rue des Champs, Acticlub Bâtiment G, ZI de la Pilaterie, 59290 Wasquehal. Voir la carte.